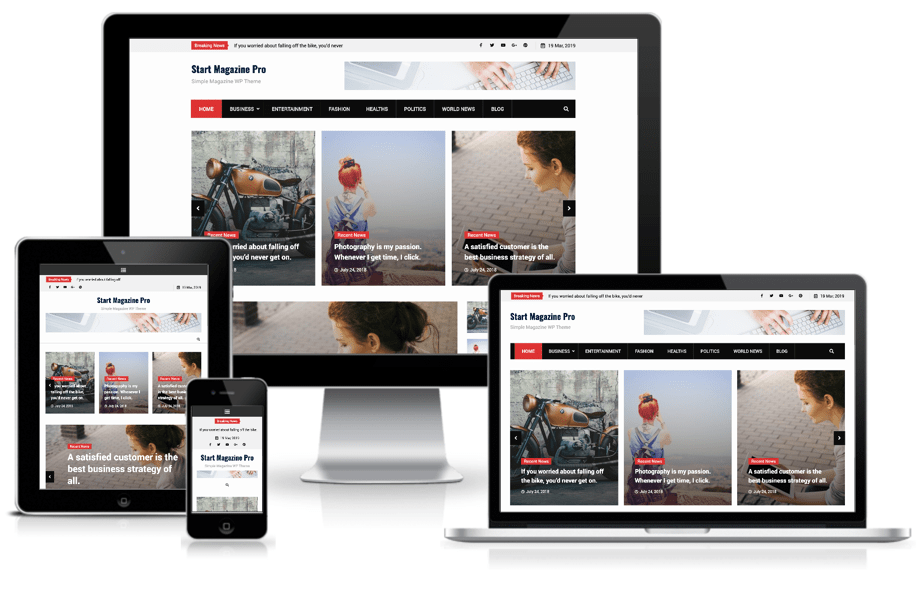 Start Magazine Pro is the premium WordPress magazine theme which helps you to build a pixel-perfect blog site and online magazine. It is specially built for online magazines, newspapers, News portals, editors, bloggers, and content publishers. The simple yet elegant design of the themes helps you to present your content in an attractive way. The theme is fully compatible with page builder plugins like Elementor and Gutenberg. With the integration of page builder plugin, you can create media-rich content without any knowledge of programming language. Our premium theme is built with the consideration to the current practice of the SEO making your site fully optimized for search engines like Google, Bing, etc.
Get all PRO Themes - buy an All Access Pass.
This theme has a responsive layout making it highly adaptable to the different screen sizes of the desktop and mobile devices. Packed with several customization options, this theme allows you to make your WordPress site your own. The theme comes with all of the premium features like multiple layouts, color options, optional sidebars, custom widgets, theme options, menu settings and more. The theme allows you to choose from more than 60 different fonts family allowing you to create content with the best typography. You can publish Author bio with custom logo and title allowing you to build consistent brand among your audiences. And all of these features can be integrated with your WordPress site with a simple drag-drop method and occasional clicks.
Main Features
Elementor Support

Start Magazine Pro is fully compatible with the Elementor page builder making it easier to edit your content. With the Elementor, you'll get complete access to design your website without touching any code. You can get create visually appealing content with the simple and intuitive user interface. Back by open source and developer friendly community, you can get complete documentation on any difficulty while using Elementor.
Custom Header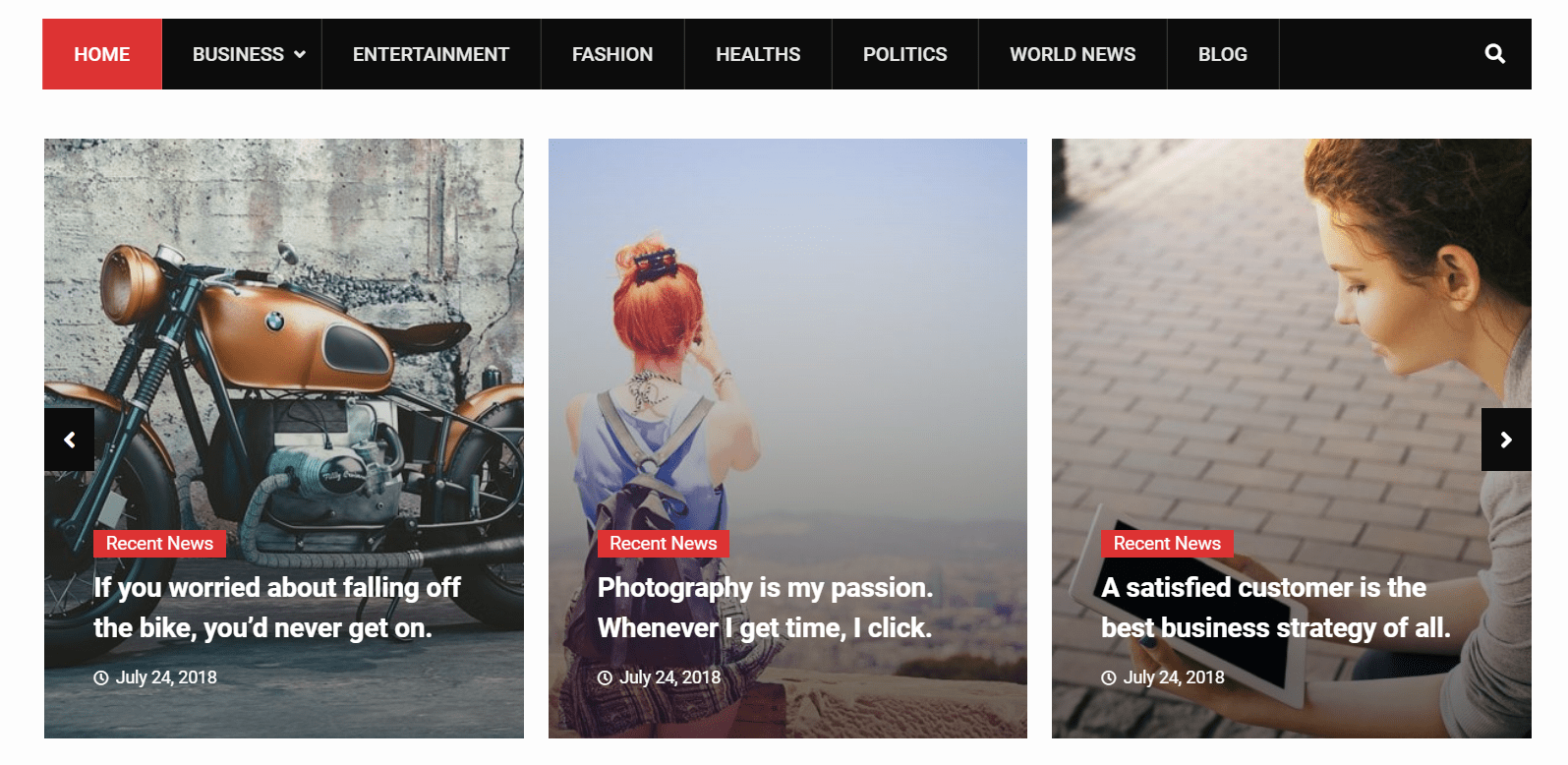 This WordPress magazine theme gives you full control over the header allowing you to optimize your online magazine site according to the preference of your audience. You can add page slider showcasing you popular contents and call to action buttons. The theme enables you to create a custom menu making it easy to classify your content in different categories. You can also integrate a custom widget in the header to enhance the functionality of your site.
Search Option

If your online magazine has lots of contents then our theme allows you to add a search option for quick navigation of the site. With these features, your audience can easily access any desired content with minimal effort. It reduces the bounce rate of the site as your visitor does not need to surf through every page of your site.
Gutenberg Support

Start Magazine Pro is fully compatible with Gutenberg Page builder. With the Gutenberg Page builder, you can create multimedia-heavy content with relative ease. The new tool – Blocks present you with the new way of inserting, rearranging and styling media-rich content with the minimum technical knowledge. You can get all of the expert features without actually being an expert. You are also provided with the default blocks to start your site from scratch.
Footer Customization

With this theme, you can control every aspect of the footer. You can add the custom widget to enhance the user experience. With the custom widget in the footer, the user can quickly access all of the services of the website. You can publish Author bio with clear contact information. You can also integrate social media icons to encourage the visitor to share your content in social media.
Responsive Design

This premium theme is designed with the consideration of the growing number of mobile users. So, the theme allows you to create an online magazine which can be easily accessed from any mobile devices like smartphone, tablets, and phablets. As the mobile-friendly design is one of the significant factors of SEO, you will also get a boost in the search engine ranking.
Key Features
* Theme Options using Customizer API
* Responsive design
* Custom Widgets
* Custom Menu
* Menu Settings
* Logo and title customization
* Pagination Options
* Footer Widgets
Start Magazine Free Vs Start Magazine Pro
Features
Multiple Layouts
Theme Options
Custom Widgets
Color Options
Custom Menu
Footer Widgets
Menu Settings
Logo and title customization
Layout Options
Optional Sidebars
Author Bio
Pagination Options
Footer Customization
Fonts Family
Start Magazine
cross
tick
tick
cross
tick
tick
tick
tick
tick
tick
cross
tick
cross
cross
Start Magazine Pro
check
More options
10
ticstrongk
ticstrongk
ticstrongk
ticstrongk
tick
More
ticstrongk
tick
ticstrongk
ticstrongk
60 +
Get all PRO Themes - buy an All Access Pass.