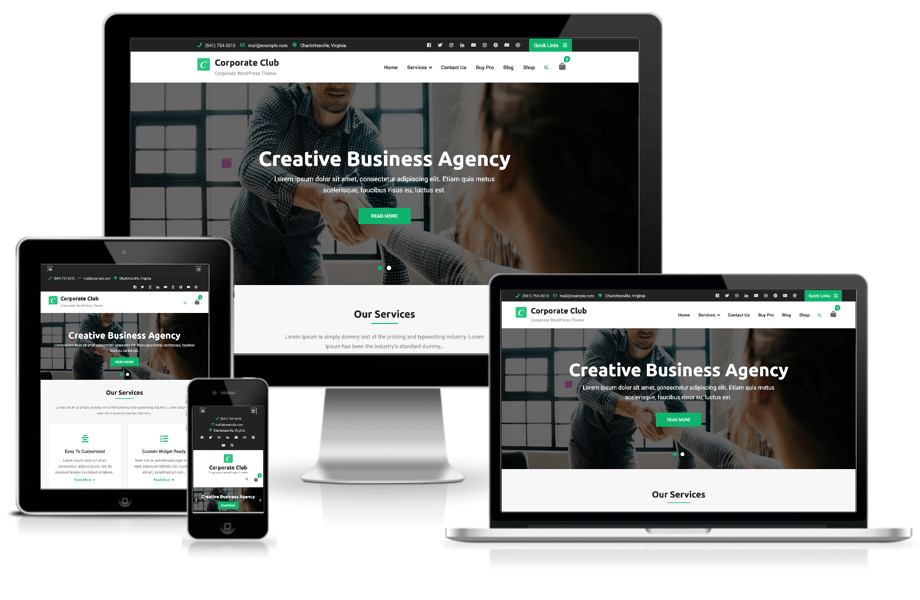 Corporate Club is a beautifully crafted best WordPress theme for corporate website. It is clean and utterly user-friendly. The theme is a sophisticated platform for agile development of a professional business or corporate websites. It requires no programming knowledge, and functionality is pretty intuitive. Provided with simple drag and drop website builder, you can quickly start your corporate website. Packaged with easy one-click demo import, it is a highly efficient approach for setting up your site. With this theme, you will have a professional, modern, and well-organized layout that focuses on usability.
It is also compatible with WooCommerce WordPress plugin making it easier to create and manage an online shop. You can add your custom products and service page. Being responsive, it is easily adaptable to all screens and browsers making it easier to target growing mobile users. This free theme is built with high-quality code making it snappy during page loading. This corporate theme is designed with SEO in mind. With the full-width header and custom logo setting, you can create your unique brand among all of the competitors. Our free corporate theme lets you make a WordPress site your own with a wide range of customization options.
Main features
Featured Slider

Corporate Club comes with a stunning featured slider which allows your website to appear more professional. The featured slider helps you to showcase your popular content or products. Generally, the visitor waits for the slide to complete giving you undivided attention for a couple of seconds. You can use this time to be more engaged with your visitor by showcasing the content which is personal and informational. You can also plant multiple Call to Action in the slider for enhanced performance in conversion rate.
Header Option

This free corporate theme gives you full access to the header. You can add service, contact information, blog, shop or other features in the navigation bar. You can optimize your corporate website in such a way that when a visitor arrives at your site, they can intuitively move around your site. You can add custom widgets for different services provided by your corporate company. You can add a beautiful header image to make your site more appealing. With the fully customizable header option, your website becomes flexible enough to adapt to any changing trends.
WooCommerce Support

This theme is completely compatible with the WooCommerce plugin. So, you can convert your ordinary WordPress website into a fully functioning e-commerce site. With the integration of the WooCommerce plugin, you can quickly sell any digital products, physical products, subscription, appointments and much more. WooCommerce comes with own sets of analytical tools making it easier to understand the behavior of your customer. It seamlessly integrates with the WordPress platform, so there is a negligible effect in your speed and performance.
Search Option

Whether you run a small business website or multinational corporate website, it is always good practice to add a search menu. Adding a simple search option will greatly enhance user-experience for your website. If you are selling multiple products and services from your website, your customer will easily access the product page from the search menu bar. Including search, the menu will significantly decrease bounce rate in your website. As each content or web page is easily accessed from the search bar.
Responsive design

The theme is compatible with most of the popular browsers and mobile devices. It can adapt to any screen sizes of mobile devices like smartphone, phablet, tablets, and laptop. With this highly responsive web design, you can attract more traffic from mobile users. With more people using mobile devices like smartphone or tablets for online shopping, our theme fit right into a piece of the puzzle for getting more online traffic. Having responsive web design is also a significant factor for Search Engine Optimizations. So, our theme gives you an added bonus of ranking higher in search engines.
Business Cast comes with several other features. The list of features are as follows:
Key Features
– Theme Options using Customizer API
– Two Header Layouts
– Featured Slider
– Site Fluid Layout
– More Sidebar Layout
– Custom Menu
– Pagination Options
– Custom Header
– Logo and title customization
– Footer Widgets
– Custom Widgets
– Responsive design
– WooCommerce Support
Corporate Club Free Vs Corporate ClubPro
Features
Multiple Layouts
Theme Options
Featured Slider
Slider Options
Custom Widgets
Color Options
Custom Menu
Footer Widgets
Menu Settings
Logo and title customization
Layout Options
Optional Sidebars
Author Bio
Pagination Options
WooCommerce Support
Footer Customization
Fonts Family
Corporate Club
cross
tick
tick
tick
tick
cross
tick
tick
tick
tick
tick
tick
cross
tick
cross
cross
cross
Corporate Club Pro
check
ticstrongk
With more options
More options
14
ticstrongk
ticstrongk
ticstrongk
ticstrongk
tick
More
ticstrongk
tick
ticstrongk
tick
ticstrongk
50 +