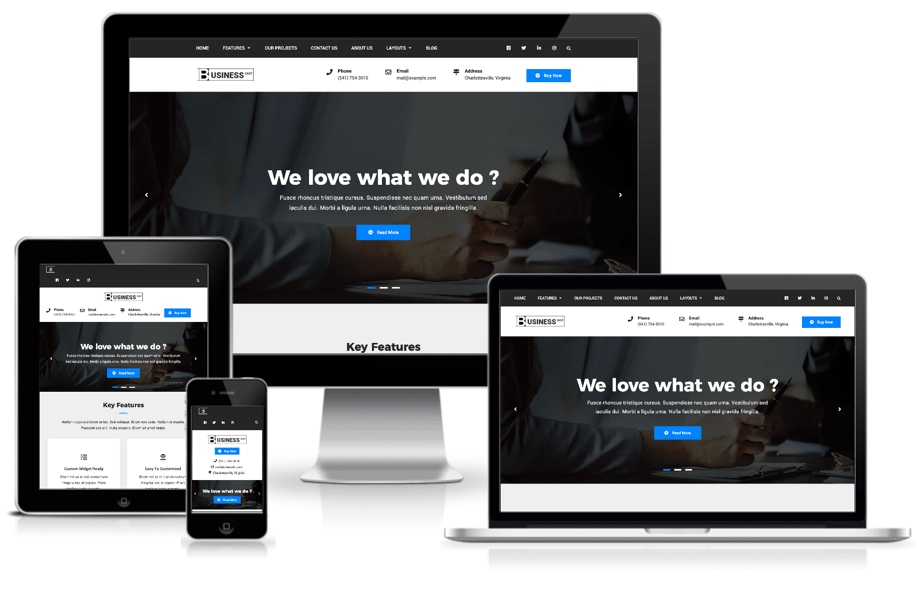 Business Cast is a clean and attractive WordPress theme for a business site. This theme is suitable for business, corporate, e-commerce shop or creative agencies. Even without any coding skills, you can easily set up and customize your business website. Special home page template is available, and you can use different widgets to make your business stand out the rest of the competition. One click demo data import feature is also available if you like to set up a demo site in just one click. With the simple integration of this free theme, your ordinary WordPress website will be the prime real estate of the business site.
The theme is cross-browser compatible and also adapts with any size of devices due to its responsive design. Powered by well-organized code, it integrates seamlessly with the WordPress platform. And it is also optimized for Search Engines like Google. Even with the free price tag, you get ample customization options like custom menu, theme designs, slider options, layout options, pagination options and much more. With the simple drop page builder, you can update your business site without any technical assistance. And if you are new to WordPress plugin then, Business Cast can be your goto WordPress business theme.
Main Features
Featured Sliders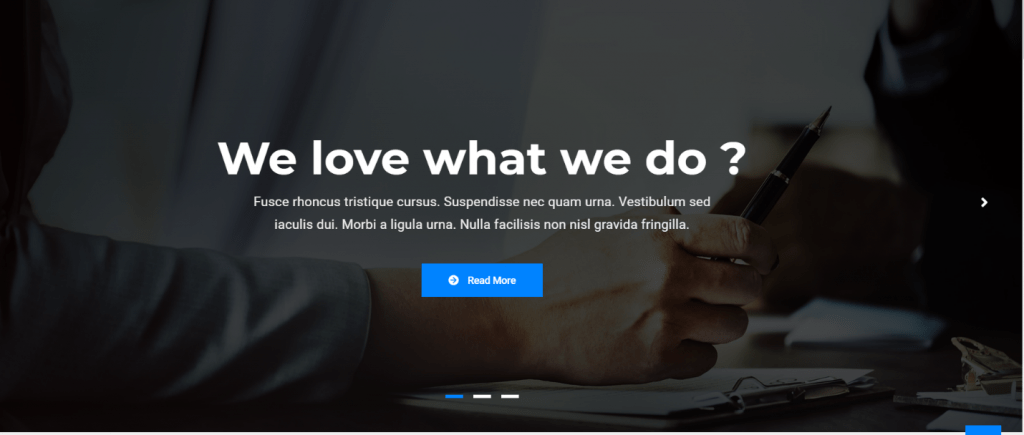 Business Cast comes with the large features slider on the top. Featured Slider is an excellent way to present your call to action for any kinds of business. Your visitor will appreciate your website for saving them click by using a slideshow for multiple Call to Action. With the combination of the featured slider and stunning image, you can hold the attention of the visitor. Catching the attention of visitor for an extra second may even be rewarded for search engine ranking. With this feature, you can give a unique appearance to your business site making it more accessible to your visitors.
Custom Widget

You can enhance the functionality of your business site by including custom widgets. Our theme enables you to create numbers of the custom widget. You can add this widget to showcase your contents and services. With the simple click, you can direct your visitor to a service page or the product page. You can convince your visitor to fill the newsletter and contact forms. All of the widgets are completely customizable making it easier to give your creative touch.
Gutenberg Support


Gutenberg is a new page builder tool which seamlessly integrates with our free business WordPress theme. With this tool, you can build a stunning media-rich page without any technical knowledge on coding. Inserting, rearranging and styling your multimedia content has never been easier before. It comes with an interactive tool known as Block which unifies multiple different interfaces into one. With the block, you can create engaging contents with rich multimedia elements.
Footer Widget

Footer widget is one of the essential parts of the website. Most of the visitor intuitively scroll down to look for contact information and other features. You can add quick information of an organization with clear contact information. It also enables you to publish a complete overview of all of the features provided by your business organization. You can also integrate different social media in the footer widget. With more of the online user spending their time in the social media platform, it makes easier to share your content in the social media.
Search Menu Bar

Search result bar is one of the most important features of the professional theme for a business site. If your website comes with a large number of web pages, then you need to include search result option in the top. It allows your user to type the content they are searching for. They don't need to manually scour your entire website to reach their desired web page. If you are also selling products from your website, then your customer will greatly appreciate this feature.
Elementor Support: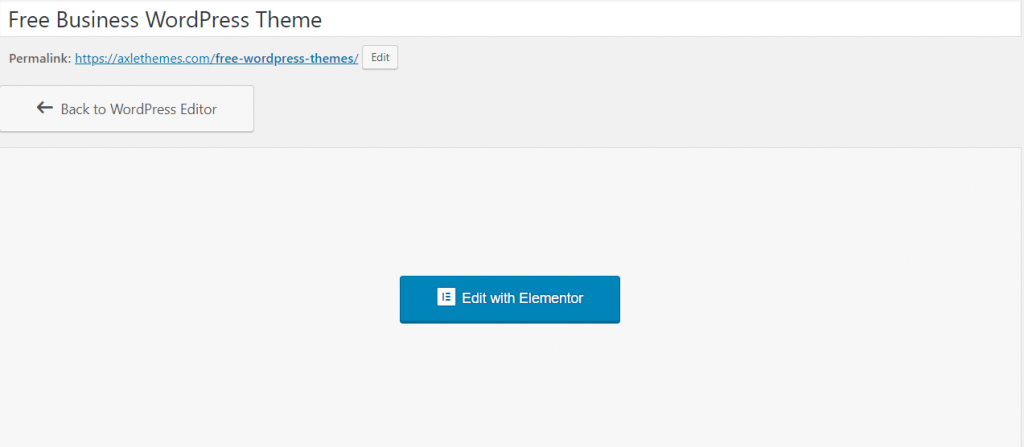 With the integration of the Elementor, you can make WordPress platform as your own. Elementor is entirely open source and comes with a large community to help you with any problem. Creating and editing page will be intuitive and quick. You can create pixel perfect pages which attract more visitor to your business site. With more than 80 elements to be used for free, you can customize every part of the website.
Besides the above features, Business Cast comes with the number of other features. They are listed below.
Key Features
– Theme Options using Customizer API
– Featured Slider
– Site Fluid Layout
– More Sidebar Layout
– Custom Menu
– Pagination Options
– Custom Header
– Logo and title customization
– Footer Widgets
– Custom Widgets
– Responsive design
Business Cast Free Vs Business Cast Pro
Features
Multiple Layouts
Theme Options
Featured Slider
Slider Options
Custom Widgets
Color Options
Custom Menu
Footer Widgets
Menu Settings
Logo and title customization
Layout Options
Optional Sidebars
Author Bio
Pagination Options
WooCommerce Support
Footer Customization
Fonts Family
Business Cast
cross
tick
tick
tick
tick
cross
tick
tick
tick
tick
tick
tick
cross
tick
cross
cross
cross
Business Cast Pro
check
ticstrongk
With more options
More options
17
ticstrongk
ticstrongk
ticstrongk
ticstrongk
tick
More
ticstrongk
tick
ticstrongk
tick
ticstrongk
50 +