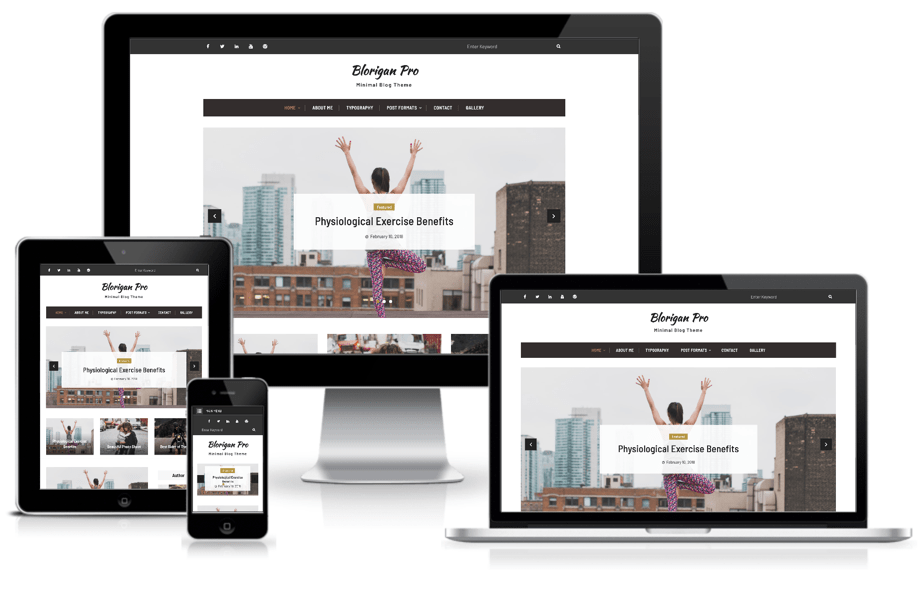 Blorigan Pro is a simple responsive WordPress blog theme which comes with the minimalist design. The minimalist approach of this theme focuses more on the quality content than extravagant animations making it best for bloggers. The theme comes with more than 50 choices of the font family. So, you can present your content in the best possible light. The theme has several built-in layouts making it easier for beginners to start their first blog site. You can add a custom feature slider to present multiple Call to Action and popular posts on blog sites. With the customization of the logo and custom color options, you can create consistent brand awareness among your viewers.
Besides the tons of customization options, the theme is built with a solid framework. The theme is built with advanced and organized code structure to work seamlessly with the WordPress platform. Most of the popular plugin in the WordPress repository can be easily integrated with this blog theme. The compatibility with page builder plugins like Elementor and Gutenberg allows you to create media-rich content with the intuitive graphical user interface. The theme is free of unwanted and slugging gradient making it quick and snappy on page loading. The responsive design of the theme adapts to cross-platform browsers and various screen sizes of mobile devices. Considering the importance of SEO, the theme checks all of the boxes for SEO friendly practice.
Main Feature
Gutenberg Compatibility

The compatibility of the Gutenberg page builder with our WordPress blog theme allows you to create multimedia-rich content with minimal effort. Gutenberg uses a new way of editing posts and pages which are known as Block. It will allow you to insert specific type of content and edit them independently. Using this page builder requires no previous knowledge of coding so even beginner can create a colorful and engaging post for the blog.
Featured Carousel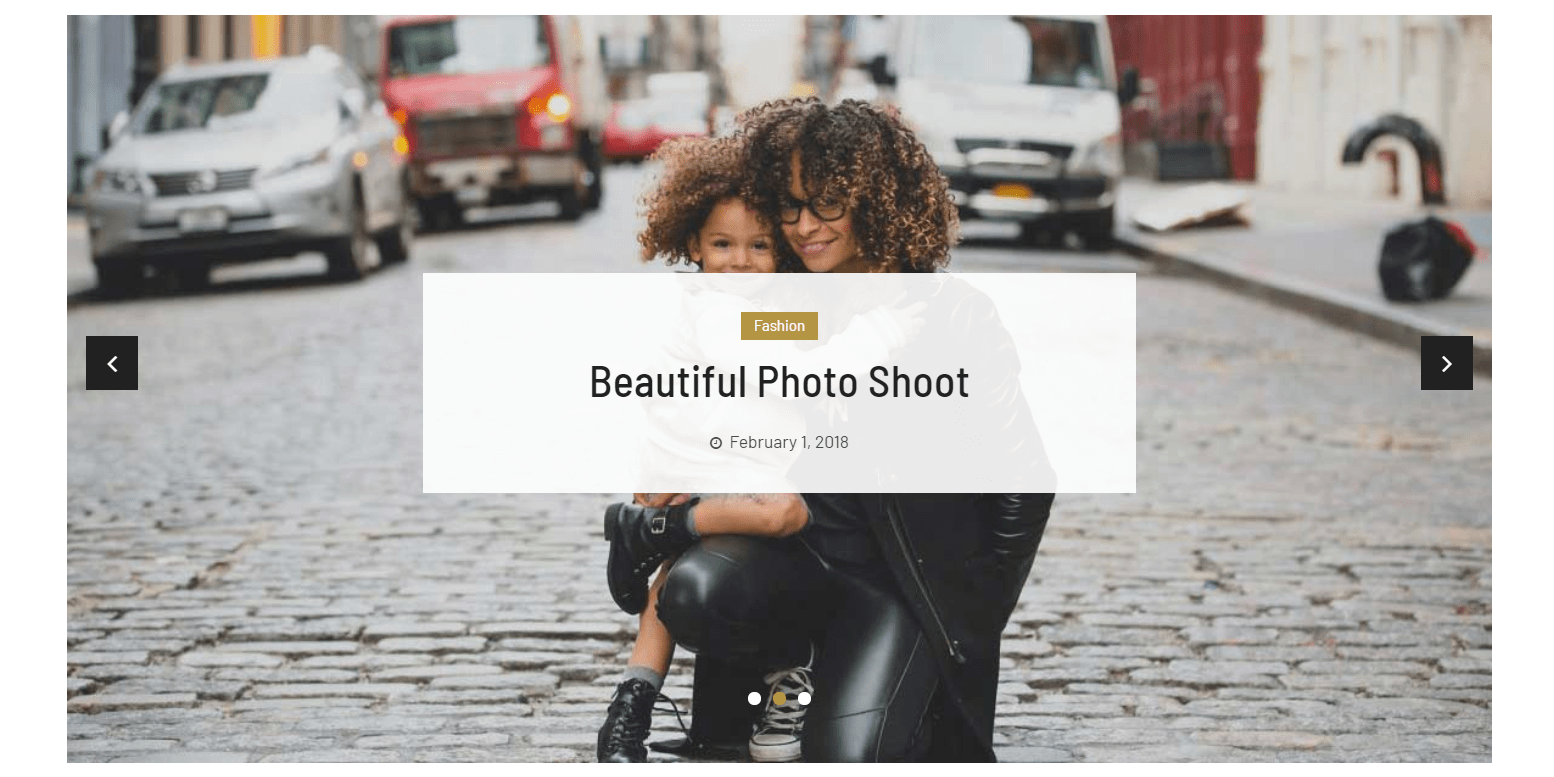 This simple responsive WordPress blog theme comes with a wide selection of feature carousel. These custom features slider allows you to showcase a popular blog post. You can also optimize the live slider to present multiple Call to Action resulting in more conversion in your site. Using the featured slider allows you to hold the attention of the viewer for a longer period of time. Our theme comes with a large variety of functional sliders.
Retina ready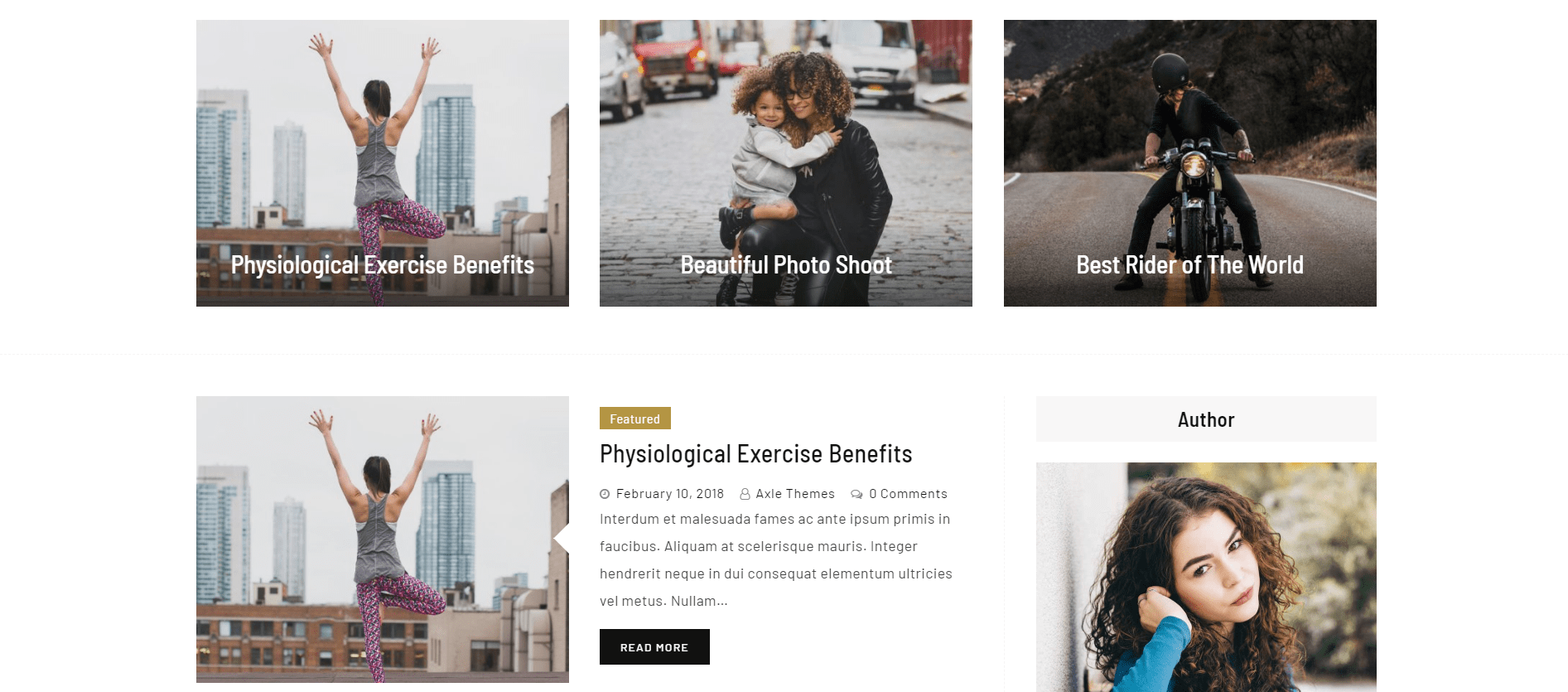 This theme is built with the high pixel density making it retina ready for your audiences. With a wide variation of typography and high-quality images, you can create content which is engaging and visually appealing. The razor-sharp text and vibrant colors allow you to capture the attention of the viewer resulting in high traffic and conversion.
Elementor Support

Our theme works seamlessly with the Elementor page builder plugin. With more than 80 design elements, you can create a unique and engaging blog post for your WordPress site. You can also design amazing Popups to engage with the visitors. You can take advantage of a set of pre-built templates that are optimized for more traffic, leads and conversion.
Footer Customization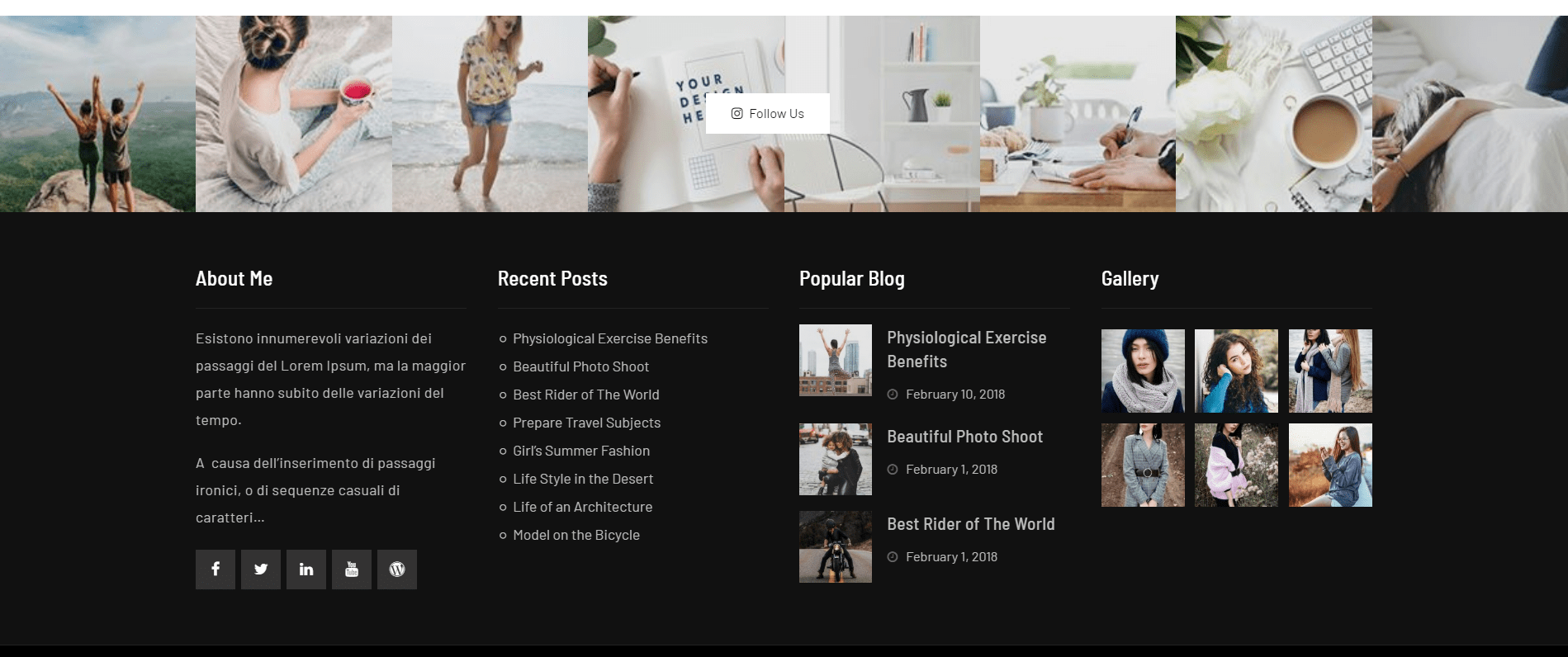 Our theme gives you full access to the footer. You can add a custom widget to showcase popular articles allowing your viewer to stay in your site for a longer time. You can integrate social media icons to encourage your audience to share your content in the popular social media platform. You can also add the author bio and other services in the footer.
Key Features
– Theme Options using Customizer API
– Featured Slider
– Featured Carousel
– Site Boxed Layout
– Site Fluid Layout
– More Sidebar Layout
– Custom Menu
– Pagination Options
– Color Option
– Custom Header
– Logo and title customization
– Footer Widgets
– Fonts Options
– Custom Widgets
– Footer Instagram
– Responsive design
Blorigan Free Vs Blorigan Pro
Features
Multiple Layouts
Theme Options
Featured Slider/Carousel
Slider Options
Custom Widgets
Color Options
Custom Menu
Footer Widgets
Menu Settings
Logo and title customization
Layout Options
Optional Sidebars
Author Bio
Pagination Options
Footer Instagram
Footer Customization
Fonts Family
Blorigan
cross
tick
tick
tick
tick
cross
tick
tick
tick
tick
tick
tick
cross
tick
cross
cross
cross
Blorigan Pro
check
ticstrongk
With more options
More options
More
ticstrongk
ticstrongk
ticstrongk
ticstrongk
tick
More
ticstrongk
tick
ticstrongk
tick
ticstrongk
50+